For those of you that were following me last spring on this blog you know that Wee Happy (Albin Vega) and Gemini Dreams (Albin Vega) went out to Los Tortugas together. Capt. K and Lala were awesome cruising buddies and we still keep in touch. They currently purchase another, BIGGER boat Way up there in New England. So they are currently faced with the sail all the way back to the keys again. Wish them luck on their repeat trip down the east coast.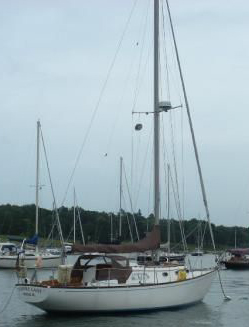 A few months ago the roller furling on Gemini Dreams blew up, actually the new line on the drum took up too much space one day winding all on the top half. A post on Cruisers Forum asking for info on the furler lead to the typical condescending messages posted on that board by the self appointed experts. Their response was a $750 to $1000 dollar dent in the cruising kitty. Thanks to Richard one of s/v Gemini Dreams' previous owners I contacted HOOD and had all the replacement parts I needed for only $140. I have since made a second order for back up parts and a new extrusion to gain about 14 inches on the roller luft. This project is soon as I want to finish it before wee head south.
S/v Gemini Dreams now has a new HOOD 150% Genoa and a back up 135% North Sails along with her HOOD Asymmetrical Spinnaker with HOOD snuffer. After the furler rebuild I will retire the current flogged out Genny. If the price was right I would still add a drifter after the winds from last year.
Currently I am running the lines aft to the cockpit. Seems like things take for ever on island time to complete. I completed some teak spacers last week and hope to get it all mounted (or close) this week. There is also the cockpit sole that has drug out way too far. Seems the vendor for the teak has 3.75 width boards and 3.875 width boards with the same SKU# on it and they are back ordered. We found the one we needed to finish the project on our road trip. Now to fill it with epoxy and drill the mounting holes.
New mainsheet traveler
I have also solved one of our dilemmas. So for reference if anyone else needs to know... the older ABI stamped stainless cowls and the Mariner's Hardware threads are the same. There are 6 different available threads on the 4"' cowls! Also note that while almost everyone knows Mariner's Hardware folded, the Blue Water Hardware that took over has also folded! If anyone has a 4" CAST stainless cowl from Mariner's or even just the 6 bolt plate and cap please let me know.
Cast Mariner's Hardware Cowl with 6 bolt flange
I have been shopping for a Sailrite LSZ-1 to do the interior and exterior sewing needs. Once on board we will be able to supplement the income by doing work and repar for other cruisers. Remember my ripped sail that cost $200 to repair? Almost 95% of that was profit. Somewhere around 20% completion of s/v Gemini Dreams sewing projects it will pay for itself!
I have also started shopping for a wind turbine! First on the list is an Air-Breeze but that is not concrete. I am hopping to find a good used one. Anyone want to get rid of one? With the Lowrance chart plotter/fish finder and a new upcoming refrigerator we need more energy production.
But "What has the Fisher King been up to?" you ask.
This is "Sergeant Stripes" he was just short of 20"
"Major Stripes" still taunts the Fisher King!
Damn catfish and a huge 13.5" Sea Bass. They don't get much bigger here.
The Fisher King continues to earn his keep by supply enough fish for dinner 5 times a week. After that I make him release the extras. Sergeant stripes fed us and the girls for dinner. The sea bass will feed us tonight.
W