This is the anchorage in the keys that is so hard to exit from. The availability of grocers, restaurants, west marine, the $3 dollar bus ride all the way to Key West and the $2.35 all the way north to Florida City make it hard to leave. They also have internet and showers. I used Boot Key this time to pick up some items for the journey past the Everglades and beyond.
Most importantly to me was the farewell dinner and drinks with Kristopher and Lala of s/v Wee Happy.
Fare winds my friends!
I also caught up on some rest over the two days as not having an autopilot wears you out. I now have an autopilot! Anyone want to donate to that feel free!
YOU TOO CAN ENJOY WEE HAPPINESS!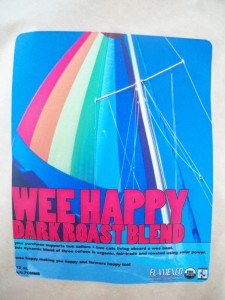 CLICK HERE TO BUY WEE HAPPY COFFEE!
Hurry while supply lasts, limited time!
Wes