Okay, I slept a little late this morning after the long last two days. By the time I pulled the anchor the bay was very choppy and the wind was strong from the south. I had planed to stop at Miller Marine for fuel and to check out their transient slips before the storm.
Why can the simple things not be simple?
First getting to the 90 degree bend in the inter coastal was not bad. Then there were all the missing markers NOT marking the channel. I tried to hail Miller's on the radio without a good response, I actually ended up calling them on the phone because now I had WHITE markers in the center of the channel! I just came from the Keys, white markers mean "shallow". "wreck below". or something similar. But if they are in the middle which side do you go around and which side do you go aground. Miller's response was
"what white markers"
. I had to ease up to them as best I could with a 20 knot wind now blowing me right on top of them. Turns out they were marking an underground pipe and I was all good. All good, except the missing and moved markers along the channel. Finding "13" where "17" should be and no "15" or "17" among others. No "10" or "14", you get the idea. It is hard to play connect the dots if someone steals part of the dots!
As I get almost to the bridge (65 foot clearance, woo hoo) I see the whole channel blocked by a pipe and several tug boats. I try hailing Miller's on the radio, I try hailing the work crew, NOTHING! Here I am on another conveyor belt of waves, 20 knot winds and a narrow channel trying to hold ground in an under powered sailboat. I end up calling Miller's again,
"what pipe? they should be done, they left yesterday...(yada yada yada)".
Well I finally decided to head into the wind and back to where I could have a little more room in the bay.
Nanny Granny from New Frontier, AL (Mobile Bay)
On the way out I passed a shrimp boat, m/v Nanny Granny, going in to the bridge, I quickly turned and followed him through. Seams when a big ass 55 foot shrimp boat says move people listen! Also seems Nanny Granny based in Mobile, AL has been working Apalachicola a lot since the BP oil spill!
Water Street Motel and Marina on a calm day
Once I had enough fuel from Miller's I decided to try Water Street Hotel and Marina for the night! I paid for two days. (That is a big ouch to a guy that is used to anchoring out for free!) But this gave me time to check out the town. If you think oysters from Apalachicola should be cheap at Apalachicola think again! While not the $13.95 from Fisherman's Wharf in Venice they were still $6.50 to $9.50 a dozen! I met the crew from
s/v Break Aweigh
and went with them to get oysters at one of the $6.50 places,
Papa Joe's
at
Scipio Creek Marina
.
s/v Break Aweigh
Papa Joe's at Sciop Creek
fishing gear
The whole South Eastern USA was hit by the storm overnight. Tornadoes, 90mph winds, power outages, broken trees, hail and other issues. Now called "The Great Derecho of April 4-5,2011" I slept well in the creek!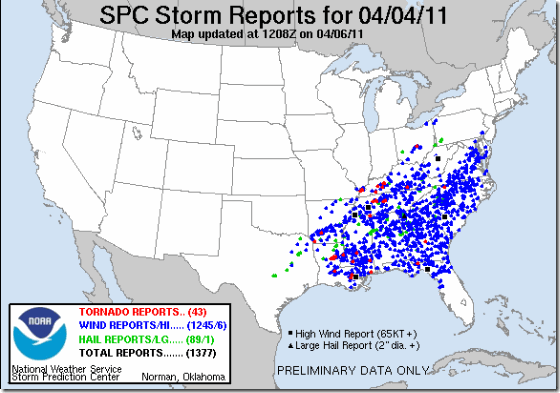 Map of severe storm reports 4-4-11
Biggest severe weather outbreak ever?
Lots of questions about this statement since this was the most reports ever received by the Storm Prediction Center. Due to the way technology & communication have advanced as well as population density it's more likely that the numbers have been inflated. Either way this was the most reports received since 2000 and even after filtering repeat reports would likely put this #3 since 2000.
link to more info
here
Apalachicola is a cool little town to spend a day in, after two days you think you have seen it all, on day three I left.
wes